Laos is a country that is not only famous for many beautiful attractions, but Laos also has many delicious dishes that conquer all international tourists when traveling here. In this article, TADY TRAVEL introduces you the Top 12 most famous dishes in Laos you should try.
1.Tam Maak Hung
There are many dishes with bold flavors of traditional cuisine in Laos, one of which is Tam maak Hung: considered a specialty of Laos, often called vegetarian mannequin. This famous dish has ingredients including pickles, papaya, cowpea, pounded eggplant and then mixed with spices to create a strange taste for each diner in a strange feeling when enjoying the dish. After making Lao papaya salad, guests can dip it in the broth to serve with other dishes. Papaya salad can be used to drink beer or eat with sticky rice or rice.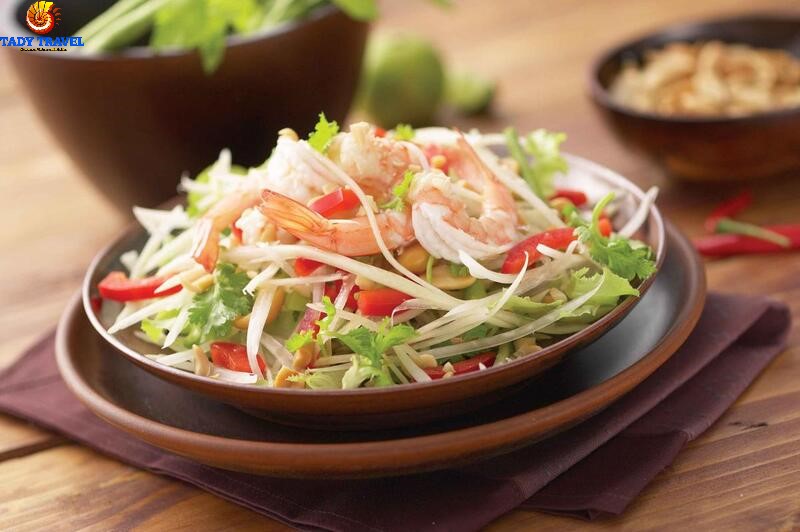 2.Laos sticky rice
Rice is considered the main food in every meal of the people of Southeast Asia, and so Laos also. People often eat rice in a bowl made of rattan, but for sticky rice, they can enjoy it with their hands, which is also quite a unique feature that tourists are curious to taste the local flavor here. It is this rustic way of eating, according to the local people, who share that with such hands, you can feel the aroma of sticky rice and the natural sweetness of each grain of rice. In addition to being a daily dish, Lao sticky rice is also associated with women. Once upon a time, it was said that the goddess of rice offered herself to the fire. After death, the goddess's ashes will help the villagers have a good harvest, avoiding famine during that year. To commemorate that, people built a small tower in the middle of the family's rice field to keep the remains of their ancestors, they worshiped very solemnly and spent a certain day in memory of that goddess.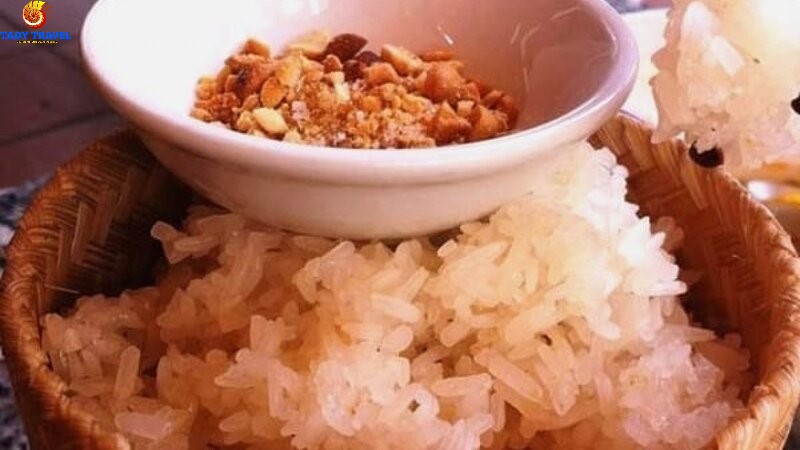 3.Sai Oua Kuang
Like sausages in other countries, grilled sausages are called lap here. In each region, Lap has different versions with distinct flavors and aromas that also vary from region to region, or from country to country.
Lap is one of the traditional dishes of the Vieng Cham people and especially in festivals, Lap has become a close national dish, bringing them luck and prosperity in the new year.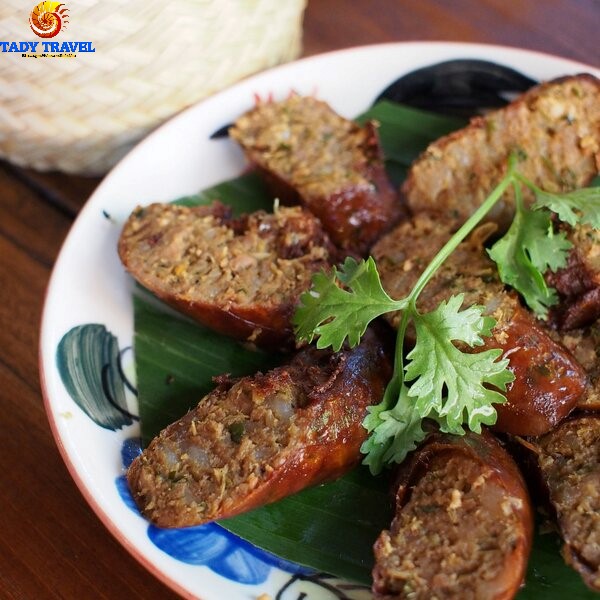 With the main ingredients are beef, venison, or minced pork, mixed with Lao spices. Bringing the combination of sour, spicy and sweet spices, neutralized with a little more herbal flavor makes the dish much more attractive. Like other specialties, all can be eaten in combination. Same goes with rice and lap, is an easy dish to combine, can be eaten with sticky rice or rice lam to bring a delicious, aromatic and satisfying taste. Diners can also eat with lettuce, cowpea… to enhance the flavor of the dish. Indeed, this is a dish worth enjoying with family and friends when traveling here.
4.Ping Gai – Grilled Chicken
Also known by another name that is Savannakhet chicken. This is a very popular dish, because it is sold at roadside stalls throughout the country.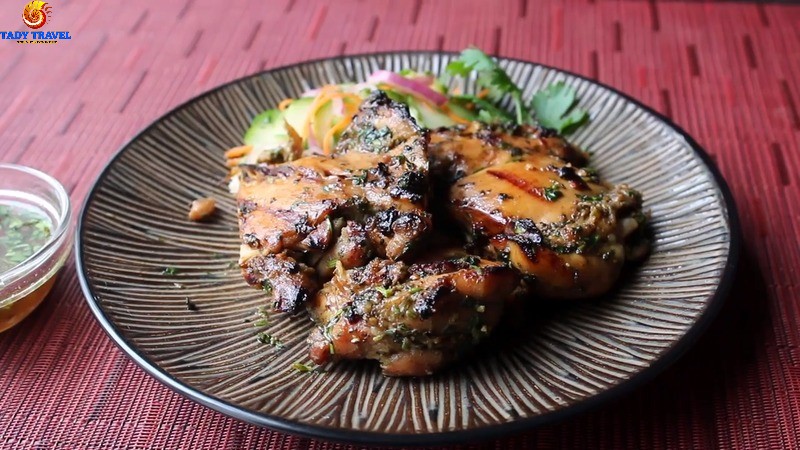 Grilled chicken ping gai is made from the kind of chicken that is left free in the garden, so the meat is fragrant, delicious and firm. After being processed, the chicken is sliced ​​in half, clamped on bamboo sticks and then rotated in a special charcoal fire. Grilled chicken is often eaten with white sticky rice and dipped with a typical Lao dipping sauce. Visitors will be fascinated by the delicious, spicy, sweet and sour taste.
5.Laap Naam Tok (Minced Meat Salad)
Minced meat salad is a salad known as the national food of Laos, this is a dish that is loved by many people because of its taste and ingredients. The mannequin is highly appreciated when eaten with glutinous rice and a few raw vegetables to make the dish less boring.
People chop the main ingredients such as fish, shrimp, and meat and then mix them together, then they mix with Chinese flavor, basil, mint, pepper, and chili. Roasted rice is also an important ingredient that creates the characteristic aroma of the dish.This is considered a traditional dish, showing the culinary culture here.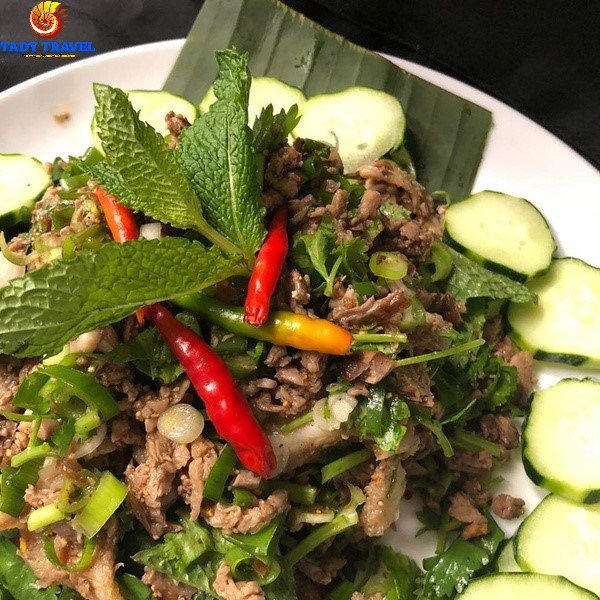 6. Insect dishes
Cambodia and Thailand are neighboring countries of Laos, so the cuisine between the countries is somewhat mixed, the culinary culture has similar features. Like the Lao people, they also love dishes made from insects. They use ingredients from rice crickets, ant eggs, to ca cuong, spiders then fry, stir-fry, put peanuts to steam rice or soak in vinegar to create a strange but equally delicious dish.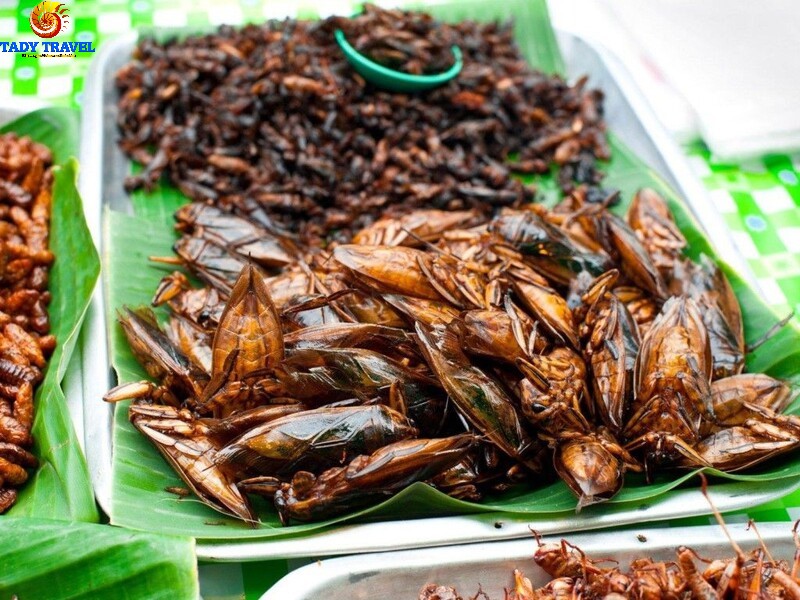 Especially the ca cuong is a useful insect that lives a lot, mainly in Cambodian fields and imported by Lao people at a very expensive price. However, with a high price, people still pay for this dish, because this is the most popular insect with a special pungent aroma. According to research, insect dishes are rich in protein. This is a challenging dish for tourists, but it is a hot spot.
7.Khao Niaw (sticky rice)
Sticky rice is a staple in the country. It is often said that Lao citizens eat more sticky rice than anyone else in the world. This is a dish that is processed into a dish like our country's sticky rice. It is steamed in a conical bamboo basket, then placed in a covered basket. This is the main dish often served with many dishes. In Laos, sticky rice must always be available to eat at any time of the day.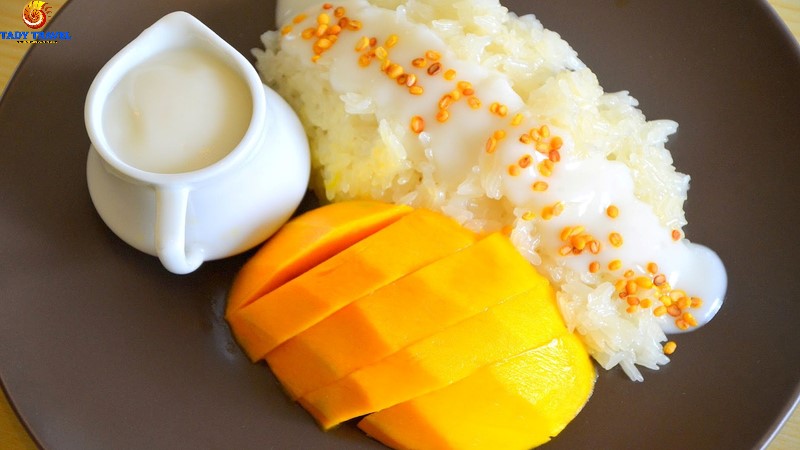 8.Nam Khao
Nam khao or naem khao is Laotian crispy rice salad, a delicious dish eaten with your fingers during a family meal or with friends after work with beer. Nam Khao is hard to make, but luckily it's available at street stalls and markets all over Laos.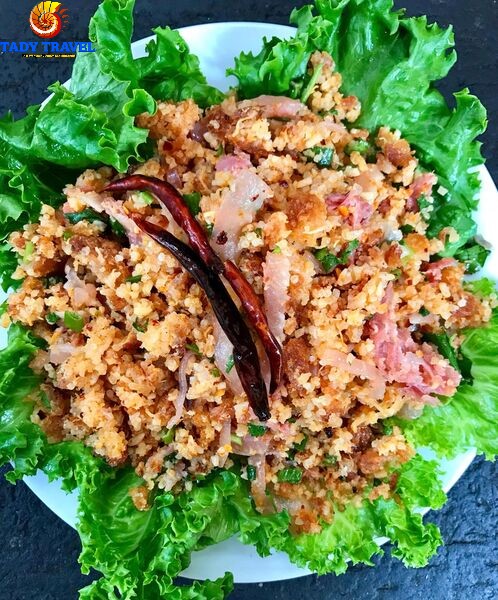 The rice is mixed with shallots, grated coconut, garlic and chili or red curry powder, then formed into balls and deep fried until golden brown. After cooling, the dish is divided into round portions with a salad that makes the dish more appealing.
9.Kao Soi
When coming to Laos, visitors admit that the only Lao khao soi we have ever eaten is because we are not familiar with the cuisine of Laos.
Almost everyone who has tasted this dish confirms that later only knew and loved Chiang Mai khao soi and had not yet made a connection between it and Myanmar's ohn no kauk swe, both curry noodle dishes made from Coconut milk is usually made with chicken and served with fried noodles on top.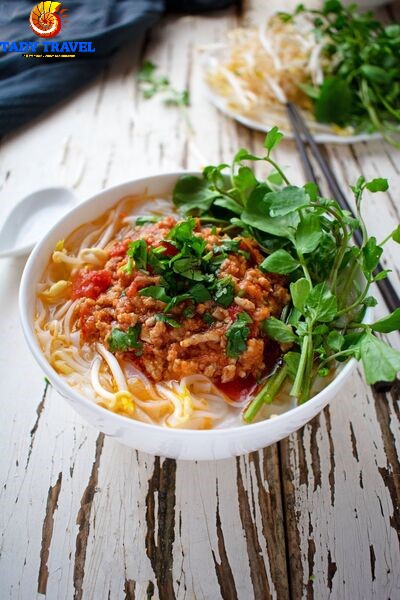 That soup likely went with the Han people in the 19th century as they migrated from Yunnan through Laos and Thailand to Burma, growing at stops along the way. But Luang Prabang Khao soi broth is a completely different soup and is praised by many visitors.
10. Lao beer
While Lao beer is no technical food, it is an essential companion to any dish while you're in the country. It is the most famous brand of beer found in Laos, and is considered the best beer in the region. Traditionally, Lao beer is served with ice in small glasses, where it is enjoyed among friends and family. If you find yourself invited for a drink, be prepared to finish a few more bottles than you might expect.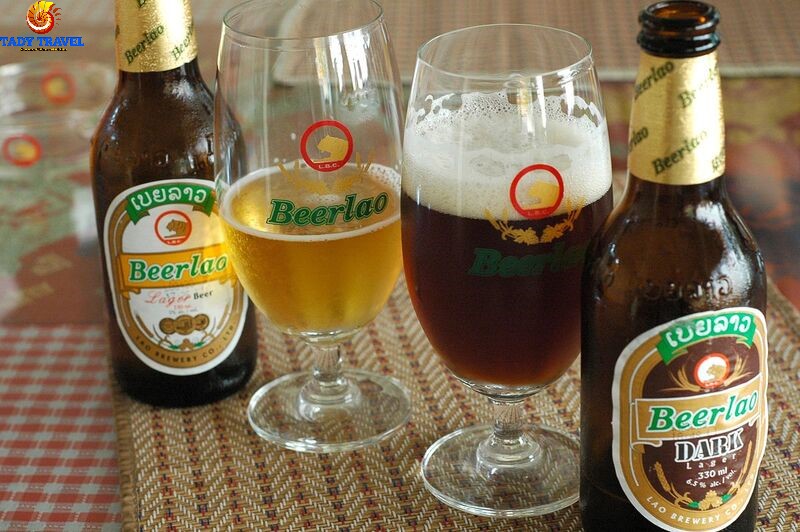 11. Ping Pa
A signature dish here, you can find your way to a Vientiane street food stall and you'll find this dish will be made from river fish, abundant on bamboo skews, seasoned with kaffir lime leaves. chopped, galangal, lemongrass, coriander and lime juice before baking with the skin.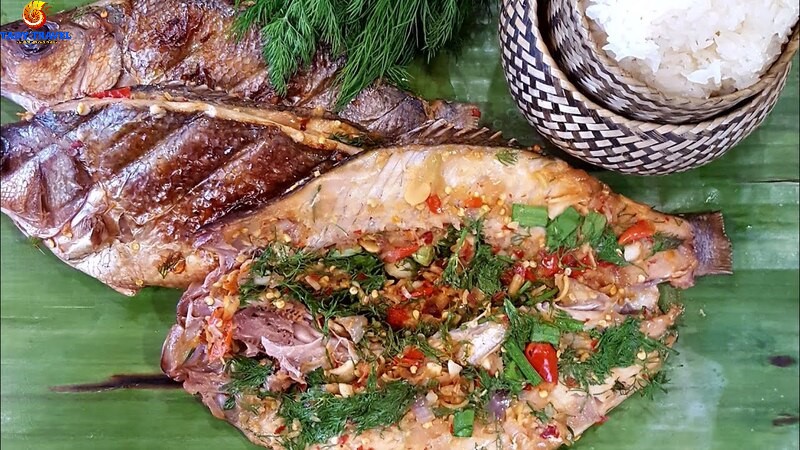 A skewer of ping pa is considered traditional Laotian fast food: Eaten on the go with a hearty meal of sticky rice, it's a wonderful and flavorful meal for an appetizer.
12.Khao Nom Krok
French cuisine has influenced a part of Laotian culinary culture, because Laos was once a colony of France, so French dishes are also popular in Laos. In particular, the French baguette is a dish known for its crispiness and flavor. This is a dish used by Lao people for breakfast, they often dip baguette in milk coffee to eat to soften the cake and increase the deliciousness of bread accompanied by cofee flavor, or eat with fried eggs or stuffing. pate inside like a sandwich.