ABOUT OUR COMPANY
TADY TRAVEL was established by a dynamic team of young people  in 2016, TADY TRAVEL is one of the leading prestigious travel companies in Vietnam, providing domestic and international tours for both Vietnamese and International tourists. Besides, we also provide hotel booking services, air ticket services….
With the aim of providing quality, reliable travel services at the best prices, TADY TRAVEL selectively co-operates with prestigious hotels, airlines and local partners to provide a variety of services. , which is intelligently and optimally combined allowing customers to book the perfect trip at the best price.
2. OUR VISION
Our vision is to become Asia's leading travel agency, based on professional, dedicated staff combined with strong and reliable online system to provide customers perfect trips at the best price.
3. OUR SERVICES
With the goal of saving maximum cost and time for customers to plan and book a trip, TADY TRAVEL provides a variety of travel services, which are combined intelligently and optimally
3.1 Domestic Tours
We provide a variety of tour groups with individual travelers or designed on request for groups on routes in Vietnam.
3.2 International Tours
As one of the leading travel companies in Vietnam, TADY TRAVEL is proud to have served more than 100,000 visitors from Vietnam and other countries from all over the world since its days of establishment. We are always confident to bring Vietnamese tourists as well as international tourists great trips to discover new lands such as: Laos, Cambodia, Thailand, Myanmar, Malaysia, Singapore, China, Japan, Korea, Europe, Australia, America…
3.3 Ticket booking services
We co-operate with all agents of airlines in Vietnam and other airlines in the world. We can provide the best quality services and convenience with online booking & payment service for air tickets of domestic airlines (Vietnam Airlines, Bamboo Airways, Vietjet Air, Vietravel Airlines) and international (Thai Airways, Air Asia, Singapore Airlines, Qatar Airways, Emirates..), your travel intinerary will be easy and fast with our professional care.
3.4 Hotel booking services
We provide online hotel booking service at all destinations in Vietnam, Laos, Cambodia, Thailand and Myanmar with wide selection and guaranteed quality.
3.5 Cruises booking services
Offering the best price cruise booking services from a short visit to Ha Long Bay to a long cruise with a luxurious cross-country experience on the Mekong River in Vietnam, Laos, Cambodia, Thailand and Vietnam. Myanmar.
3.6 Visa, train ticket, car rental services
We reliably provide visa, train tickets and car rental services. TADY TRAVEL is committed to customer support at all times.
4. CONTACT US
TADY TRAVEL TRADING AND COMPANY LIMITED
English Name : TADY TRAVEL AND TRADING COMPANY LIMITED
International Trading Name: TADY TRAVEL
Tax code: 0107583763
Business license number: 0107583763. Date of issue: October 3rd 2016. Place of issue: Hanoi Department of Planning and Investment.
International business license number: 01-1563/2020/TCDL-GP UNT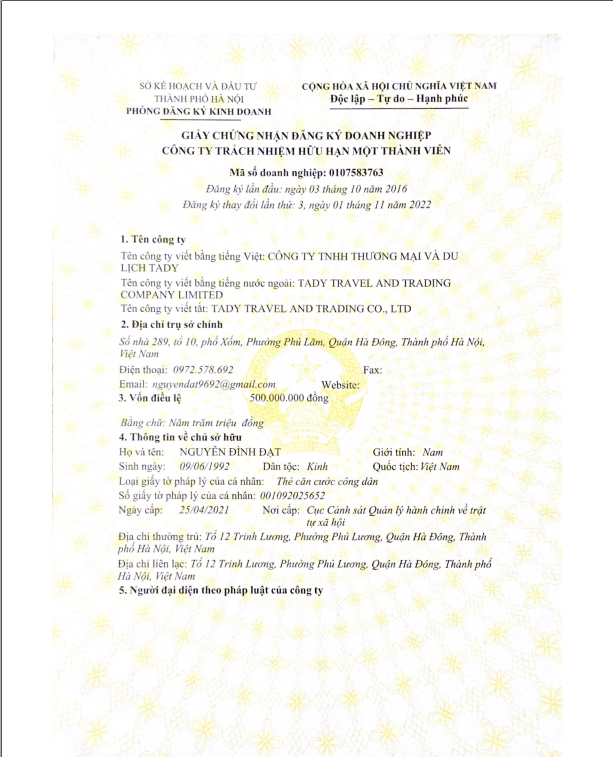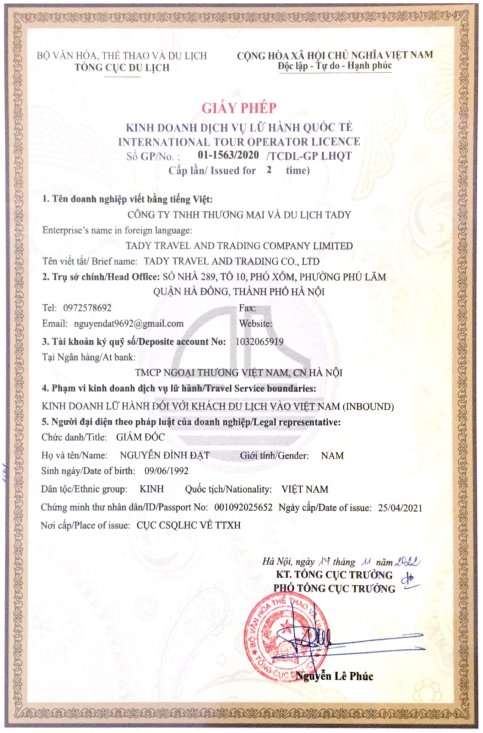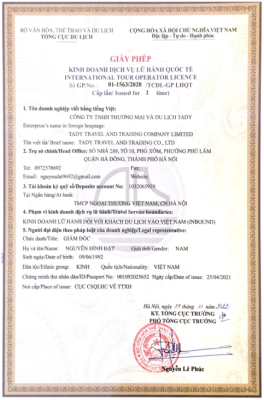 4.1 OUR PROFILE
4.2 OUR ADDRESS
Our head office: No. 80, Phu Luong street, residential group 12, Phu Luong ward, Ha Dong district, Hanoi
Office in Hanoi: No 289 Xom Street, Phu Lam ward, Ha Dong district, Hanoi
Phone: (+84) 24 3242 4670 / (+84) 24 3204 7886
Hotline: (84) 972 578 692
Email: sales@tady.org